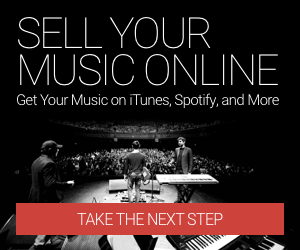 Sponsored content: Many independent artists wonder how to get their music on iTunes, Spotify, Apple Music, Tidal, and other stores. The good news is all you need is a digital distributor.
We recommend using industry leader TuneCore if you're looking for a trustworthy and transparent service. TuneCore will host your album or single on all the major stores and streaming platforms for an affordable fee. Plus you keep all your rights and 100% of the sales revenue. Learn how you can get started here.

We believe all great artists should get the exposure they deserve. 
Learn how to grow your career in music with a 1-on-1 virtual consultancy session from A&R Factory.
A&R Factory has helped hundreds of artists grow and elevate their brand – securing PR coverage in top music outlets, Spotify playlists, as well as teaching tricks and tips to open doors at record labels and publishers.
Our virtual music consultancy arms you with expert guidance from A&R Factory's in-house team of publicists and former industry managers on how to elevate your artist branding, get plays, and play bigger shows.
With a 30 minute session, we can offer industry advice on how to:
Professionalize your music and marketing – from your website to your press kit – and book bigger shows
Optimize your digital and streaming channels
Elevate your branding and open doors to the right promoters and bookers
Get your tracks heard by the right blogs, outlets and influencers
Run paid advertising campaigns that get you more fans for less money
To date, several of our top artists have seen themselves in the Billboard and Music week charts. 
We have been working with Stefan at A&R Factory for more than 2 years. The team has provided very sound advice on how to effectively market and promote our music in the UK and worldwide. What is most appreciated is that they are very honest and are one of a very few who have consistently had our best interest in mind. That is very hard to come by in this business.

We have had four JayQ The Legend songs on the Music Week Club charts, two hit top 10. With the support of the A&R Factory team, JayQ The Legend's song, "Body Talk", has received a lot of press and is top 30 on the USA terrestrial radio Urban AC Charts & Billboard Hip Hop Charts. It has also hit the top of the Billboard and iTunes chart in the Reggae charts. BreakOut Music intends to continue to work with A&R Factory for many years. 

Miriam Bavly, CEO of BreakOut Music
Book a music consultancy session
How our virtual music consultancy works:
Sign up for a timeslot
Confirm your details and fill in responses about your situation
We'll send you a video conference link before your session
One of our team will introduce themselves to you via email
On your call, you can ask any question as well as receive personalized advice
How to sign up
Scroll down to our widget.
Browse and select your preferred timeslot
Confirm your details and purchase using Paypal