On January 31st, 2020 Brexiters insipidly celebrated the prospect of monoculturalism. Meanwhile, I embraced the cultural diversity found in another stellar line up curated by Manchester-based promoter Astral Elevator.
With Noisy Italian Psych Post-Punks Kill Your Boyfriend headlining and support from Manchester's Hey Bulldog and the Dee Vees along with Dublin's finest Psych Garage Rock act Glossolalia, there was a sticky-sweet melange of Psych-driven noise to delve into.
Hey Bulldog's socialist approach to Psych Blues Garage Rock left me mesmerised once more; their sound was as tight as the government's welfare budget. The momentous tensile force behind their deftly orchestrated tracks paired with the disquiet delivery of the sniping lyrics will never fail to blow me away.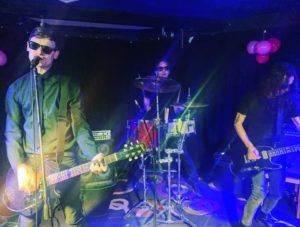 Photo Credit: Astral Elevator
The caustic tones of Kill Your Boyfriend may be ringing in my ears some 24 hours later, but it's a small price to pay for witnessing such an explosively entrancing set which matched the same decibel-intensity of Swans and My Bloody Valentine.
Their darkly despondent experimentalism finds the perfect balance between Noise, Shoegaze, and Post Punk to offer a level of distinction which aggressively resonates in every note delivered.
With their tribal drumbeats, inventively distorted angular guitar progressions and riotously-charged vocals, getting swept up the energy of their anarchic performance is pretty much non-optional. Even in the basement of an indie venue, they were able to deliver an all-consuming performance that allows you to forget that you're standing in front of three musicians. There was synergistic chemistry found in both their abrasive stage personas and the delivery of their pummelling eerie rhythmic noise.
Photo Credit: Sean Crossey
Manchester-based poet Leon the Pig Farmer also doused the crowd in his poetic vitriol in between the acts. With the penetrating parables which he's able to draw from his savage wit and unabashed honesty, each performance cut just as deeply as the last. While many spoken-word artists rely on prosaic methods, Leon the Pig Farmer projects resoundingly raw verses in a way which truly revives the undiluted expression of the beat generation. Whether he's spitting bars about the graffiti on the Peer Hat toilets or being viscerally honest about his mental health, the weight behind his words leaves an imprint which isn't easily forgotten.
Perfectly rounding off the night were the guest DJs Kay & Gray with their back to back synoptically eclectic danceable euphoria-dripping earworms. It's a rarity to hear DJs championing new artists and simultaneously appeasing the crowd. Evidently their needles are on the pulse of some of the best up and coming artists around.
Follow Astral Elevator to keep up to date with their upcoming gigs via Facebook
Artist Links:
Kill Your Boyfriend: Spotify, Facebook
Hey Bulldog: Spotify, Facebook
The Dee Vees: Spotify, Facebook
Glossolalia: Spotify, Facebook
Leon the Pig Farmer: Facebook
Review by Amelia Vandergast