Tragedy has a habit of letting everything pleasurable and meaningful fall into a pit of futility. When that is conflated with the virtue signalling/shaming spat at influencers and artists for carrying on with their projects, it is no surprise that there are many questioning the appropriateness of how we are conducting our lives online and offline.
It was only a couple of years ago when we were furious that the UK government tried to tell ballerinas to retrain in IT; when the Sunday Times published a poll that dubbed artists as non-essential. Then, we fiercely defended the importance of art, music, and every other form of media that gives us a brief reprieve from the misery of a late-stage capitalist world.
Sure, a few dystopic years have slipped by since, and the return of live music wasn't quite as triumphant due to the cultural shifts that happened when we realigned our lives in the absence of the live music scenes. Just as artists were starting to pick up momentum, the value of music has once again in question, and I get it, I do. But if every time senseless tragedy struck and artists downed tools, the airwaves would be eternaly radio silent.
As for those thinking that it's disrespectful to carry on with music in a time like this, you're hardly bringing a clown to a funeral by keeping the cogs in the meaning-making machines that you are turning. Ever since the renaissance, music has been regarded as a humanism; that sentiment resonates just as strongly today. A few things have changed since, including artists' ability to use their expansive platforms to do more than sell their new releases. Here are just a few ways artists and industry figures are stepping up in solidarity with Ukraine.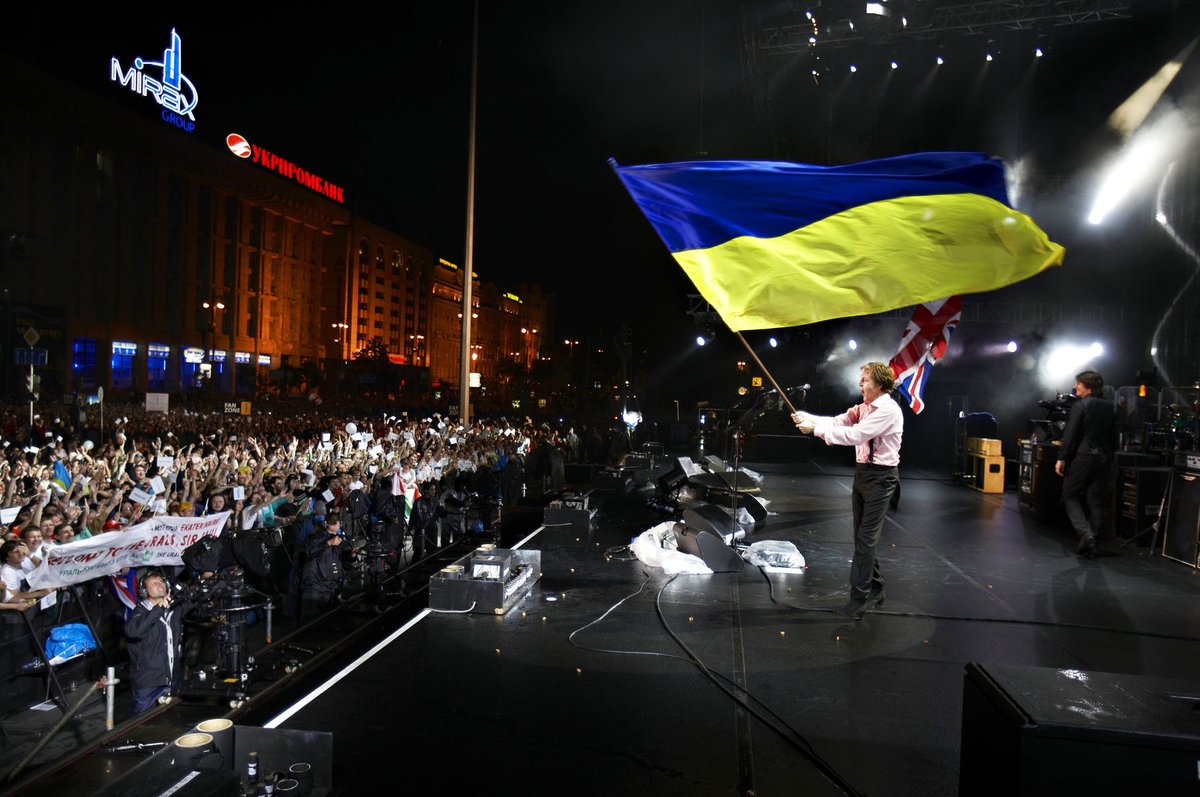 –           On Bandcamp Friday (March 4th), artists from across the globe donated their profits from sales to Ukraine, and many more are continuing to donate their income via digital sales to Ukrainian charities for a limited time, including indie post-punk's most enamouring baroque debonair, James Cook and the UK grunge earworm-makers, The Dying Lights.
–           At 72 years old, Alan Erasmus (Factory Records) headed to Lviv to provide humanitarian support. He has also started a fundraiser for the Legacy of War Foundation, which is raising money to support the future of children in Ukraine. The Guitarist from the Polish death metal band, Decapitated and Machine Head crossed the border to provide humanitarian aid.
–           The revered UK punk outfit, Vice Squad, has already raised over £2,410 for Ukrainian animal rescue efforts, and their fundraiser will be running until the end of the month. To be a part of it, purchase their new EP, Humane.
–           The Russian punk powerhouse, Pussy Riot, has raised over $6.7 million by selling an NFT of the Ukrainian flag, and all the proceeds will make their way to the Ukrainian armed forces.
–           The death metal band Behemoth, the Irish thrash metal outfit Gama Bomb, and the Shoegaze legends Slowdive are all releasing exclusive merch and donating the proceeds to charity.
–           There have been countless live and livestreamed gigs from across the globe, probably most notably, the event at the Roundhouse in London, which saw Franz Ferdinand, Bob Geldof, and Chrissie Hynde perform. All of the proceeds went to the DEC.
On March 7th, the Disasters Committee (DEC) raised over £100m in four days. That may be a drop in the ocean considering how many people's lives are now rubble, but the solidarity and benevolent entrepreneurship has restored my faith in humanity more than one punitive man with a stockpile of nukes could ever dent it.
A&R Factory has also donated to the Disasters Emergency Committee, and we will continue to champion artists using the power of their influence in this surreally existential time.
Amelia Vandergast