Night People, Manchester, 5th Oct 2019
Yesterday, I tested out the limitations on my spine and headed down to Astral Elevator's all-dayer showcasing 15 artists who collectively proved just how versatile of an element Psych is when weaved into a soundscape.
It's one thing to listen to your favourite accolade-showered artists performing, but it's quite another to be in an environment which is sharing in the excitement of new up and coming artists, and that was very much a part of the atmosphere last night.
There were plenty of artists emitting an effervescent array of distinction last night, but here's my top three bands that you'll want to put on your radar sooner rather than later.
Hey Bulldog

Yeah, sex is good, but have you ever seen Hey Bulldog live?
I'm not even sure that's an exaggeration at this point. But what I am unequivocally sure of, is that Hey Bulldog has broken the mould with their dynamic genre-contorting sound.
The palpable virtuosity which I'd heard on their records is one thing, but seeing the sonic soundscapes crafted first-hand allowed me to appreciate the ingenuity in their heightened alchemic sound even more.
Nothing about Hey Bulldog's music resonates as assimilative. From the structure of their unpredictably progressive tracks to the intensity of them, they are a forcible aural paradigm shift away from the usual tones which you'll frequently find amongst psychedelically-inclined bands.
If guitar hero lists were constructed based on talent alone instead of the nostalgia which 'iconic' riffs offered, you'd find Hey Bulldog's guitarist and vocalist Rob Manton's name deservedly near the top.
And if you think any of that sounds like superfluous hyperbole, you can check out the Manchester-based trio for yourselves. I'd start with their recently released single "Death & Greed", the refreshing veracity will have you hooked in seconds.
Artist links: Spotify, Facebook, Website
Phobophobes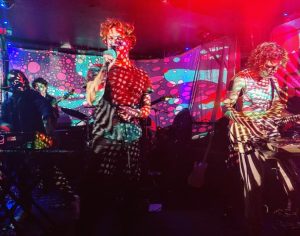 Phobophobes never fail to leave me mesmerised by their ennui-laden brand of bleakly carnivalesque Psych Garage Rock.
The South-London based DIY artist offers a rarely found intellectualism within their sound, but it's so much more than conceptually artful instrumentals put against reverberant ominous vocals. Through the live performance, there's a real sense that their music is a personification of their despondency. But despite the eerie bleakness, there's also chilling incredibly danceable euphoria.
Their playfully sinister experimentalism is especially perceptible in their latest single "Blind Muscle".
If you could imagine what the B52's would have sounded like if they wanted to insidiously invade your subconscious you might be able to get an idea of what the single has to offer. And if there was ever an aural equivalent to David Lynch's films, it's the Phobophobes. Jamie Taylor's commitment to disconcerting the audience with their menacingly charming stage persona is something that everyone should make an effort to witness.
Artist Links: Spotify, Facebook
The Gluts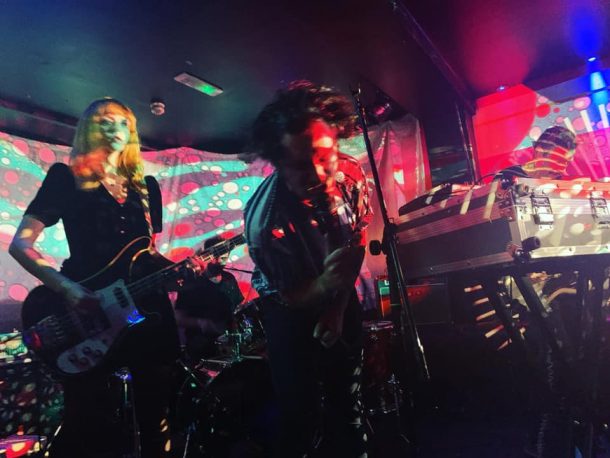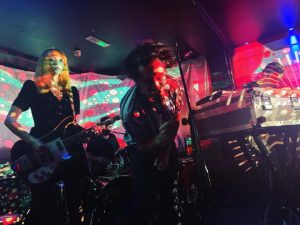 There was no following on from the ritualistically caustic Italian fourpiece The Gluts last night.
As soon as the guttural vocals howled over the synergetic sonic instrumentals the energy in the room shifted in line with their frenzied, overdriven, atmospherically loud presence.
There's certainly no shortage of angry artists putting out harsh noise at the moment, but The Gluts ability to make it melodious and rhythmically arrestive between the heavy bursts of biting noise is something that you're unlikely to hear from any other artist.
Their Psychedelically-laced Noise Post-Punk is a feat of pioneering ingenuity, it may not be for the faint-hearted, but Post-Punk fans looking for blisteringly absorbing angsty catharsis should find plenty to appreciate about them.
Artist Links Spotify, Facebook
Follow Astral Elevator via Facebook to keep up to date with their future events.
Review by Amelia Vandergast