In 2022, more than ever, it is less about the genre and more about the mood for music artists and consumers. The loss of arbitrary and constricting labels isn't exactly something to mourn. Yet, it can make the industry a minefield for independent artists that have obliterated genre constraints with their music – if they are approaching their PR with a traditional mindset and approach.
In this article, we will cover how that shift happened and the best way for artists to move along with the tides and market music to younger generations of music fans, considering that 78% claim that their music tastes can't be defined by genre, as recently shown in a Vice Magazine survey.
How Music Became Genre-less
Unlike everything else in 2022, music is becoming less partisan; the days of music tribalism are numbered. It is getting rarer to see hip hop and rock fans refusing to believe they have anything in common as boundaries between genres disintegrate, enabling the ascent of the genre-less fan. That doesn't just boil down to how artists, such as the music-culture-unifying Lil Nas X, curate their songs; it has plenty to do with the trend of psychological playlists on streaming platforms.
The modes of music discovery have taken tectonic shifts in the past few decades. No longer do you head to the part of the record store that houses crates of your preferred genre, pick up a genre-specific magazine, watch music TV (RIP MTV), or rely on the radio. As cringey as the phrase is, it is all about the vibe and how music fits into people's lives to become a soundtrack. Just been dumped? There's a playlist for that. Playlists to chill out cats? Yeah, that too. Playlists for when you see a goose, yep!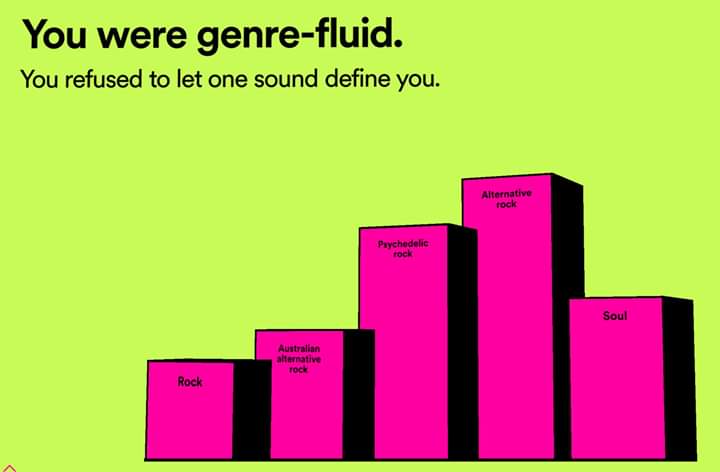 In 2022, almost 524 million people currently use streaming services to discover new artists, and for many, the best means of discovery is by listening to playlists curated by mood. That isn't great news for artists releasing EPs and LPs. Especially considering that many people listen to artists they can't remember the name of, and the majority of them would need the Clockwork Orange treatment to actually sit through a whole album, let alone memorise all the lyrics to one.
Somewhere in this century, there was the death knell of the die-hard music fans. Again, this isn't exactly a bad thing. If you're only in the industry to amass a ragtag band of sycophants, you're everything that is wrong in the industry; take your vanity elsewhere. For everyone else, take this new shift as a sign you need to switch up your self-promotion tactics.
How to Promote Genre-Fluid Music
Coming up with a niche genre to describe your music might feel clever, but it is time to think far beyond genre-defined niches. In our oversaturated market, a new sub-genre may as well be born every minute, and there is certainly not enough of an appetite for them all. Seriously, no one wants to listen to your psychedelic pirate jazz; or whatever it is you've come up with.
Know Your Place Beyond Genre on Streaming Platforms
Genre isn't the only way that music is categorised on streaming platforms. Geographical locations, instrumentation styles, moods, and song styles should also factor into indie music promotion.
Love them, or loathe them, Spotify knows how to market to the new generation of music fans that are indifferent to music genres, as long as the music matches their mood or music styles. Soundcloud and Bandcamp have also started enabling artists to use mood tags. Just like record collectors liked to deep-dive into crates, digital music consumers also head into music tag rabbit holes to find more music to suit their mood.
From sad to sexy, ballads to beats, study playlists to morning commute playlists, there are tags and playlists for everything, and more often than not, there's plenty of range between the featured artists on any given playlist. It is all about the emotional connotation and the energy of your music.
If the mood and style of your music away from the genre isn't immediately evident, look at similar artists and pay particular attention to their music tags and the playlists they feature on. Once you know your place, submit your music to the relevant playlist curators and allocate the appropriate tags.
Submit Your Genre-Fluid Music to Bloggers Covering All Music Styles
Take the fall of genre-focused print magazines as a major clue to how much the music industry has changed. A&R Factory has always welcomed talented independent artists who have struggled to garner press and critical acclaim from other sources due to the narrowness of the pigeonholes.
A&R Factory has been ahead of the genre-obsession game for a decade. Knowing that independent artists that paint across the sonic spectrum with little mind to using the same strokes as the artists that came before them are some of the most talented. Just as there are genre-inclusive blogs, indiscriminative record labels are springing up at a rapid rate.
Create An Aesthetic
With the popularity of social media rising in line with the tendency for humans to see themselves as a 'brand' while they are online, sadly, and surreally, any chance of an independent artist succeeding rests on their ability to create an aesthetic and appeal to a niche.
From the album artwork to press photos to your stage outfits to your music video, each visual is an opportunity to appeal to your intended fan base by sharing the personality of your music after mapping out the colours, imagery and tone.
If your skills are lacking in the visual art arena, use building your visual brand as an opportunity to collaborate with visual artists; you will also benefit from sharing a fan base with your collaborator.
–
In conclusion, even while we are in this transitional phase where artists are ditching genre and much of the PR world still relies on categorization, not all hope is lost. Especially for artists willing to put their differences with certain music streaming platforms and social media apps aside.
A little self-promotional creativity will go a long way for artists already thinking constraint-less ways with their sound. Other blogs, labels, radio stations, event promotors and magazines may take their time to get in line with the rapid changes in the industry. However, that doesn't mean you need to sell your creative souls to appease the archaic dinosaurs, too stubborn to loosen their capitalist and commercial grip on the industry.