If you're looking for psychotropic aural escapism Astral Elevator has you covered with the Psych Rising, happening in Manchester on October 5th.
On any given night in Manchester, you'll find an array of gigs to stumble into, but once again Astral Elevator has deftly curated a line up of the finest Psych Rock, Shoegaze, Garage Rock, Post-Punk, and Psych-Doom which you definitely won't want to miss out on.
Amongst the 15 bands performing across the two stages (no clashes!), you'll spot the leaders in the revival of psychedelic tones along with promising up and coming talent ready to offer ascension through their colourfully riotous riffs.
In running order, here's the international array of bands who make it more than obvious why they made the cut.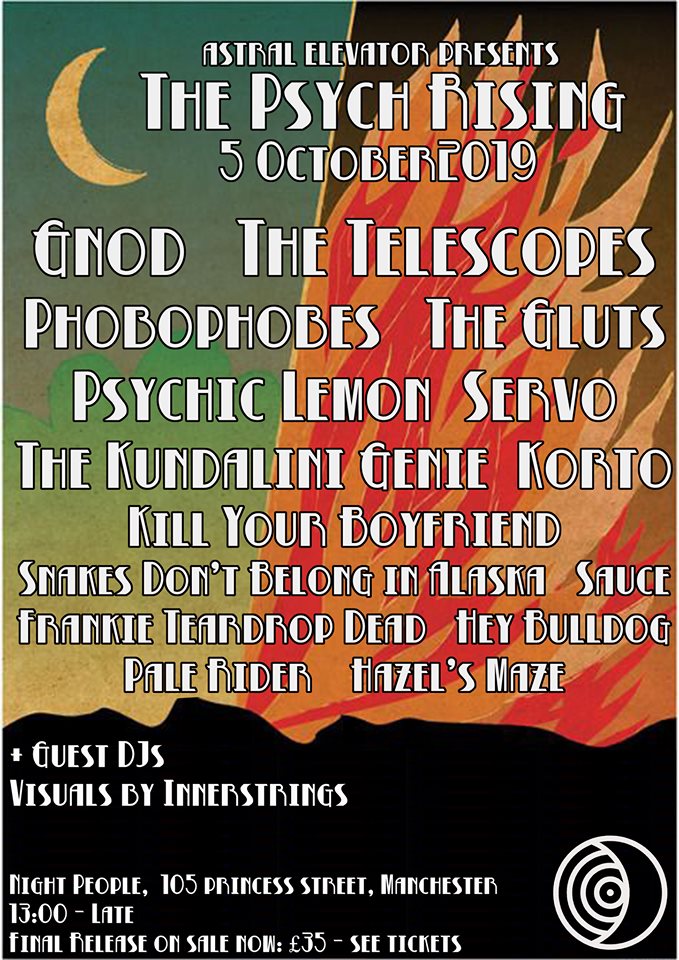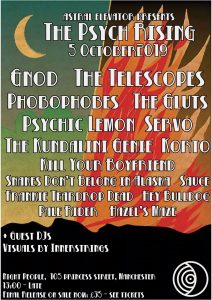 Hazel's Maze – Cheshire-based Alt Rock offering Melodiously cathartic, ethereally captivating tones.
Artist Links: Facebook, Spotify
Sauce – Manchester-based fourpiece renowned for their refreshingly authentic wholesome Rock vibes. It's like being thrown back to the 90s when everyone seemed to love each other a little more. Artist Links: Facebook, Spotify
Korto – Punchy riotous supersonic Kraut Rock three-piece bringing their high-octane, sporadically chaotic energy all the way from the French Alps.
Artist Links: Facebook, Spotify
PALE RIDER – One of Liverpool's most promising newcomers ready to spill their kaleidoscopically nostalgic aural alchemy.
Artist Links: Facebook, Spotify
The Kundalini Genie – Quintessentially captivating hazy melodic Psych Pop reviving the 60s style with Indian Classical, Blues, Folk, and Jazz thrown in for good effect.
Artist Links: Facebook, Spotify
Hey Bulldog – Containing easily one of the best guitarists in Manchester, the three-piece will prove exactly why they're worthy of that accolade as they blend sonic futurism with rhythmic vintage nostalgia.
Artist Links: Facebook, Spotify
Kill Your Boyfriend – 2 Piece band flying in from Venice to leave us slightly disconcerted with their dark noisy Shoegaze-laden Post Punk. Imagine PIL and Magazine with a psych infusion and you've got Kill Your Boyfriend.
Artist Links: Facebook, Spotify
SeRvo – Cavernously phantasmic ambient Psychedelia from a uniquely captivating French artist renowned for making Shoegaze colder than we've ever heard it before.
Artist Links: Facebook, Spotify
Frankie Teardrop Dead – A highly acclaimed Manchester-based Dream-Wave act who fuse Psychedelia with roots-deep Rock n Roll to spill enough catharsis to lull to you into a state of colourful euphoric bliss.
Artist Links: Facebook, Spotify
Psychic Lemon – Masterfully crafted Space Rock from the Cambridge-based act who have given the revival of Psych Rock a brand-new trajectory.
Artist Links: Facebook, Spotify
Phobophobes – The South London Six-piece utilise their serpentine sordid rhythms to flirt with nostalgic tonality whilst simultaneously gripping you with their modern magnetic air of aural dejection. This set is definitely not to be missed.
Artist Links: Facebook, Spotify
The Telescopes – After the release of their 11th studio album, the Telescopes are ready to bring their consciousness-expanding soundscapes to Manchester once more. Expect a stripped and exposed bed of Psychedelic Indie.
Artist Links: Facebook, Spotify
The Gluts – The Milan-based fourpiece will be bringing their atmospherically-charged brand of Noisy Psych-steeped experimental Post Punk to douse you in blistering progressions of over-driven guitars.
Artist Links: Facebook, Spotify
Gnod – Raging Psychedelic Noise from the Manchester-based collective who have been rearranging synapses since 2006 with their caustically indulgent sound.
Artist Links: Spotify
Snakes Don't Belong in Alaska – Rounding off the live acts will be the Psych Krautrock band who endearingly describe themselves as being the "UK's Worst Hawkwind tribute band" – we definitely don't agree.
Artist Links: Facebook, Spotify
Info: 5th Oct 13:00 – 03:30, Night People & Twisted Wheel, Manchester, £35 + bf
Tickets for the event are now on final release and can be purchased via Skiddle
For more info, head over to the Facebook event page.
Amelia Vandergast